September 22 2017 |
Modern Access opens new operational hub at Legal & General's Eastleigh's Barton Park Industrial Estate 
Property consultancy JLL brokers deal with expanding scaffolding company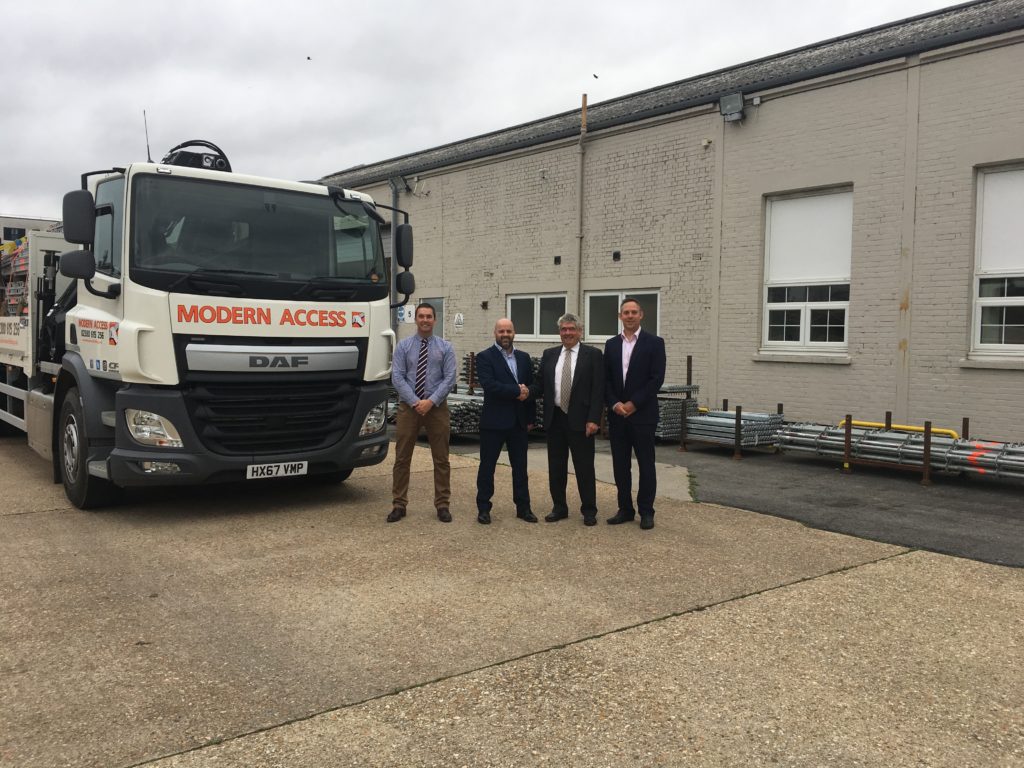 Caption: L to R: Alan Blencowe (Director of Modern Access), David McGougan (JLL), Pat Blencowe (Managing Director of Blencowe Scaffolding) and Nick Tutton (CBRE).
EASTLEIGH, September 21 2017 – Scaffolding specialist Modern Access has expanded its operations with a new site at Eastleigh's Barton Park Industrial Estate.
Modern Access, which specialises in modular system scaffolding and is part of Blencowe Scaffolding, also now has a new home at the industrial estate, having expanded from Basingstoke and Salisbury.
David McGougan, director at JLL in Southampton, which brokered the deal on behalf of the landlord, Legal & General's Industrial Property Investment Fund, said: "Hampshire is facing an acute shortage of industrial space so it is no surprise that industrial space at well-located estates such as Barton Park, which has excellent transport connections, are in high demand."
JLL is marketing the industrial estate for let alongside CBRE. Modern Access has taken a 6,465 sq ft unit. It also has premises in Basingstoke and Salisbury.
Alan Blencowe, director of Modern Access, said: 'We are extremely pleased to open our doors in Eastleigh in addition to our depot in Salisbury and Basingstoke. The move allows us to grow the company organically and allows us to meet even more client demands and welcome further clients throughout the next few years, as well as our staff base. Our services have naturally expanded significantly since our business launch in 2016 and we are looking forward to the exciting journey the company has ahead of it."
Pat Blencowe, managing director of Blencowe Scaffolding, said: 'The completion of the new operational centre for our Modern Access division is consistent with our drive to strengthen the effectiveness and efficiency of our new division and the parent company's plans for internal operations. Our move to Eastleigh was a natural fit for the company."
– ends –
About Blencowe Scaffolding
Blencowe Scaffolding Ltd is a professional scaffolding and scaffold supplies company established in 1964. The firm operates from a head office and depot in Salisbury, Wiltshire, a depot in Basingstoke, Hampshire and a specialist system scaffold operation centre and depot based in Eastleigh, Hampshire.
These three operating centres are ideally placed and allow us to operate efficiently throughout the counties of Wiltshire, Hampshire, Dorset, Somerset, Gloucestershire, Oxfordshire, Berkshire, Surrey, West Sussex and East Sussex.  For further information, visit www.blencowescaffolding.co.uk
About JLL
JLL (NYSE: JLL) is a leading professional services firm that specializes in real estate and investment management. A Fortune 500 company, JLL helps real estate owners, occupiers and investors achieve their business ambitions. In 2016, JLL had revenue of $6.8 billion and fee revenue of $5.8 billion and, on behalf of clients, managed 4.4 billion square feet, or 409 million square meters, and completed sales acquisitions and finance transactions of approximately $136 billion. At year-end 2016, JLL had nearly 300 corporate offices, operations in over 80 countries and a global workforce of more than 77,000. As of December 31, 2016, LaSalle Investment Management has $60.1 billion of real estate under asset management. JLL is the brand name, and a registered trademark, of Jones Lang LaSalle Incorporated. For further information, visit http://www.jll.co.uk.
Contact: Amanda Blencowe
Phone: 07766823 824
Email: amanda@threesixfiveevents.com